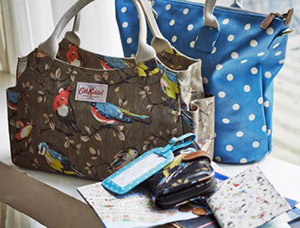 ASIA DRIVES SALES
Cath Kidston has waved bye to quite a positive quarter. The fashion and homeware brand saw largest rise in profits and sales coming products came mainly from Asia, despite it was all good news as well back home: sales also grew 21 percent in the UK.
"As a British brand it is very important for us to be successful in the UK," chief executive Kenny Wilson said, stressing that despite the potential overseas, where international sales are up 53 percent, he remains committed to growing business closer to home.
Sales rose 19 percent to 105 million pounds in the year to March, and the firm opened 33 stores, taking the total to 118.
"With the broad appeal of our products across the globe and the strong customer response to our brand in both the UK and Asia, we look to the future with confidence," Wilson stressed.
The retailer, founded in West London 20 years ago by English fashion designer Cath Kidston, grew by 33 to 118 shops over the year. The retailer has 58 stores across the country after launching eight over the year. The number of stores in overseas markets including China and Hong Kong has also overtaken UK stores for the first time. "We're investing the profits back into the business."
In regards to the success of the brand, which just surpassed the 100 million pounds milestone, Wilson said this expansion is being driven by high demand for its aspirational but affordable products.
100 million pounds height conquered.
The homeware chain said group sales in the year to the end of March rose 19 percent to exceed 100 million for the first time.
The company's latest results for the year to March 31 show annual sales grew 19 percent to 105 million pounds, while earnings before interest, taxes, depreciation and amortisation rose 13 percent to 21 million pounds.
Cath Kidston's chief executive, Kenny Wilson, said the business would continue to expand: "Our strong balance sheet gives us the perfect platform to continue to grow the business globally," he said.
The retailer, originally founded by Cath Kidston, who remains its creative director with a 20 percent stake in the company, said it was confident about future growth, with its products retaining "broad appeal" across the globe.
The group has been majority owned by US private equity firm TA Associates since 2010. The private capital firm now holds nearly 60 percent of the whole company.
About the plans of TA for the brand, Wilson remains confident: "They recognise that this is a growing business and that we want to reinvest the profits to grow the business."