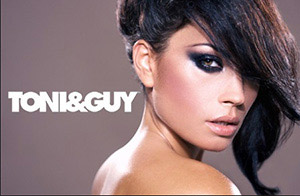 Toni & Guy
Britain's premium hairstyling brand, TONI & GUY makes a fashionable foray into the India market. With a highly-anticipated launch in Mumbai, the brand unveiled a gamut of products ranging from Cleanse & Nourish, Prep and Men's Classic.
Following the brand's philosophy, Mark Hampton, Global Hair Ambassador, TONI&GUYHairMeetWardrobe and Manish Arora, the official fashion stylist, showcased the concept of 'how hair can be worn as an accessory'. Represented were three premier looks – Casual, Classic and Glamour – on Bollywood ladies Malaika Arora Khan, Soha Ali Khan and Anusha Dandekar.
Each of these divas embodied the theme of TONI&GUY HairMeetWardrobe range, namely – Glamour, Classic and Casual.
"The launch of TONI&GUY HairMeetWardrobe celebrates a new beginning in the way Indians wear their hair. I really enjoyed translating the brand's philosophy and attitude into Indian styling sensibilities for the three Divas. I am passionate about putting hair at the heart of the show and 'Dressing from the Head Down,' and I'm glad to have done just that here!" said Mark Hampton.
On the launch of TONI&GUY HairMeetWardobe in India, Srinandan Sundaram, GeneralManager, Haircare, Hindustan Unilever Limited said, "TONI&GUY HairMeetWardrobe bring to India an innovative, creative and rather redefined approach to hairdressing. The brand lives the HairMeetWardrobe philosophy of 'Dressing from the Head Down' and this remains intrinsic to our entire product range. The TONI&GUY HairMeetWardrobe Prep, Cleanse & Nourish and Men's range, along with fashion inspired collections of Casual, Classic and Glamour enables fashion forward men and women to experiment, create and express their personal sense of style. These products have been inspired by and developed around individual yet timeless fashion themes that make every style easily attainable."