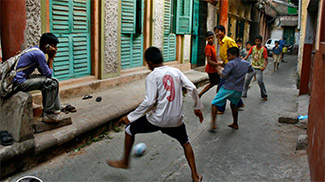 TEAM BRANDSPOKE
#TeamSports India
Brandspoke are seeking International sportswear brands who wish to distribute in the fast-growing Indian market.
1800Sports, India's leading sports retail destination formally announces strategic partnership with Brandspoke to on-board International Sports brands in line with ambitious growth objectives.
The Indian market is expected to become the world's largest consumer market by 2030 and the 3rd largest GDP by 2020. It's well documented that the real buying power is shifting to Asia. India's burgeoning middle class currently at 300m is expected to grow by 150m over the next 3 years. The fashion market is witnessing unprecedented growth, driven by online retail that's demonstrating 70% growth.
The sportswear market is growing at 33% CAGR year on year as the population spend ever-increasing time in the pursuit of leisure and sports activities. India is also adopting the global trend of wearing sportswear as casual-fashion attire.
Michael Pike (CEO-Brandspoke) states, "In the past 36 months, we've witnessed a significant appetite for International brands by the Indian consumer, however the trade barriers for International brands remain complex. Brandspoke has 12 years of experience working in the Indian market and are ideally positioned to support business growth in this go-2 market".
Amit Kaul (CEO-1800Sports) states, "Government trade regulations, the sheer geographical size and diversity of India have seen the market adopt new trade formats to deliver success; achieving competitiveness for the price-sensitive audience is essential. Formats that also result in improved margins for stakeholders".
Brands stocked include: Adidas, Aasics, Head, Joola, GM, Yonix…
Brandspoke in partnership with 1800Sports are delivering a 360º (B2B + B2C) entry platform for brands who wish to develop their branded assets in this significant, yet complex market.
Further information contact: india@brandspoke.com