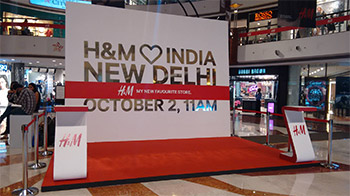 bullish prospects
Swedish fashion brand H&M and retail giant Wal-Mart are upbeat about the opportunities on offer in the market.
Global retailers such as H&M Hennes and Mauritz AB and Wal-Mart Stores Inc. are upbeat about opportunities in India, which remains a bright spot even as major emerging markets China, Brazil and Russia slow.
"Our global target is to grow 10-15% each year. Our expansion will be much faster here," said Janne Einola, chief executive officer, H&M Hennes and Mauritz Retail Pvt. Ltd, a unit of Swedish fast-fashion retailer H&M, at the India Shopping Centre Forum 2016 in Mumbai on Wednesday. But the Indian market also has its challenges, Einola pointed out.
The world's largest retailer Wal-Mart is stepping up expansion plans, targeting to open 70 wholesale outlets by 2020—up from the previous target of 50— said Krish Iyer, president and chief executive officer, Wal-Mart India.
While Einola did not share the number of Indian stores it plans to end the year with, he hinted that its rate of expansion is much faster than that of its competitors in India.
"How many stores we will open by end of the year I will not tell you, but I am very proud of how quickly we are opening here in India. It is something which none of my competitors has done here before," said Einola, who has opened five stores since the launch of its first Indian store in October.
Globally, H&M had 3,970 stores as of 29 February and plans to open 425 more by November, The Wall Street Journal reported on 6 April.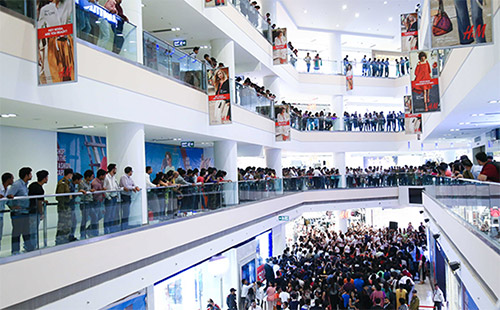 The company is the world's second biggest clothing retailer by sales after Zara's parent Inditex SA from Spain.
Zara has been in India since 2010 in a joint venture, Inditex Trent Retail India Pvt Ltd, with the Tata group's hypermarket and department stores retail company Trent Ltd.
The company was one of the fastest growing apparel and lifestyle brands to have crossed $100 million in revenue within five years of operations with 16 stores.
However, its growth rate has slowed down from 43% in fiscal 2014 to 24% in fiscal 2015 and it ended fiscal 2015 with a revenue of Rs.721 crore, according to the Trent annual report.
To be sure, global retailers are looking at India for high growth, albeit on a small base.
"India is the only bright spot in the emerging economy in particular and global economy in general. India will continue to remain the fastest growing major market in the next five years with macroeconomic indicator, including the fiscal deficit, being well under control and the economy robust," said Iyer, while noting that the country with its demographics and economic growth rate of 7-8% holds a huge potential for retailers.
However, challenges remain in the form of high operational costs, lack of good retail space and ease of doing business.
For instance, retailers such as H&M require as many as 17 licences to open a store in India.
"It is easier to do business even in neighbouring countries of India than here. We need to bring some of their best practices," said Iyer, while noting that there is some progress starting to happen with some of the recent policy initiatives such as Make In India, Startup India and Digital India.
There is a plethora of rules governing single brand, multi-brand, e-commerce and retail, too. India doesn't allow single-brand retailers such as H&M and Zara to run online stores; globally, H&M has been looking at expanding its e-commerce operations and hopes to offer it in 34 countries by the end of the year.
"E-commerce portals like Amazon and Flipkart here is bad business—they are not making any money and are unprofitable. How long can they run an unprofitable business?" asked Einola, who feels that there is potential for doing business online in India, but not with the current business model followed by online retailers.
In addition, even as retailers expand and open new stores, Indian retail remains challenging due to tepid consumer spending and lack of new malls.
"Last two years, shopping centres were in the ICU (intensive care unit) and in the last year, it's moved on to the ventilators," said Sanjay Dutt, managing director, Cushman and Wakefield, a property consulting firm.
He said the ground reality doesn't reflect the macroeconomic environment as salaries have not grown and corporate earnings remain muted, which is impacting the consumers ability to spend.
"Overall consumption has been low across the board across consumer packaged goods to discretionary," said Abhishek Malhotra, co-head, consumer industries and retail products practice, India and South East Asia at A.T. Kearney, a global consultancy.
New companies and brands coming to India offer a degree of novelty and are looking at growth from a low base, he said. However, for the larger market, the overall consumer sentiment has been deteriorating over the past year and this is reflected in the weak sales growth of most consumer sector companies and real estate, he added.
<a href="http://www.livemint.com/Industry/Unc2VxuBrPM1xPmgUl8FPI/Global-retailers-bullish-on-growth-prospects-in-India.html" target="_blank">ETArticle</a>